Hiking
---
Welcome bike
---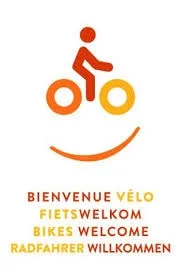 Welcome bike is synonymous with a welcome, equipment and services adapted to the expectations of cycle tourists while ensuring better visibility of the various tourist operators who undertake to respect certain criteria, a guarantee of quality!
In addition to restaurants, regional bistros and tourist organizations, lodges and guest rooms are full partners in this dynamic!
These establishments are all located at a maximum of 5 km from Ravel or a cycle network. You will be able to identify them by affixing a sticker with the logo at the entrance.
Here are some examples of the services available to you in Bienvenue Vélo establishments:
A covered and secure room for your bike,
a first aid kit,
equipment for cleaning, maintaining or repairing your bike.